Dani Guzman, Ex Libris
The Covid-19 pandemic has aggravated existing pressures on the research office, while also accelerating certain changes that were already underway. On the one hand, cost reduction efforts by academic institutions are increasing the strain on research budgets; on the other, the entire research ecosystem is evolving, with a changing funding landscape, growing focus on interdisciplinary collaborations, and an increasing move toward open access. The future of research is looking more dynamic and, potentially, more impactful.
With this as a backdrop, we can ask the question: What are the main priorities of academic institutions for facilitating research in 2020 and beyond?
Alterline, an independent research agency, was commissioned by Ex Libris to answer this question, among others. The report presents a detailed snapshot of the experience of researchers and research office personnel in the US, the UK and Australia in conducting and supporting research at institutions of higher education.
We will be addressing some other topics highlighted by the report in subsequent articles. But for now, let's take a look at what senior research office staff members have cited as the main institutional priorities with regard to academic research.
Many of my partners come from industry or government, and they care about demonstrable outputs of a project beyond publications.

Securing Research Funding: Increased Competition 
"We face a changing landscape and a highly competitive environment in securing research funding." — Pre-Award Officer, UK
Of 101 research office respondents, 68% said that obtaining more funding is their institution's main priority as regards academic research.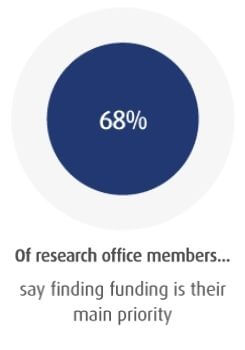 Unsurprisingly, then, 80% said that the research office team's role includes "Facilitating access to funding opportunities" and 71% cited "Supporting selected funding opportunities". Also, over half of the senior research office staff surveyed said "Finding and applying for funding" was one of their main areas of responsibility.
There is a clear gap, however, between what faculty researchers expect from the research office in the search for funding and what they do in practice. While 79% expect the research office to facilitate access to funding opportunities, 80% look for funding themselves and only 45% receive help from the research office.
In the changing landscape of funding opportunities, both members of research offices and researchers feel there are structural limitations on finding funding opportunities. Research office staff report a lack of time and a lack of resources as the top two challenges they currently face, with budget restrictions number three.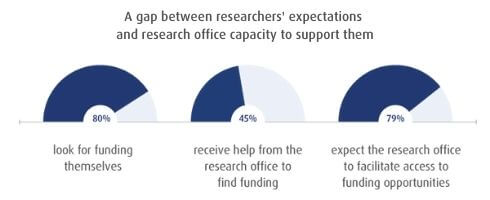 Showcasing Research: A Shortage of Tools and Time
While research offices have a clear role in identifying valuable funding opportunities, they can also be a very important factor on the other end of the research life cycle.
The activity of a university's researchers plays a big part in building its reputation. Indeed, the second main institutional priority with regard to academic research, as identified by senior research office staff, is improving the ranking and prestige of the university.
Therefore, the university has a clear interest in showcasing research publications and expertise, and keeping them up-to-date. However, 40% of research office respondents said that their institution does not have a research portal enabling them to showcase researchers' work.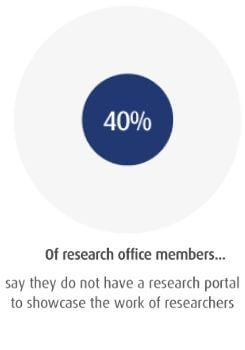 For 72% of the institutions that have a research portal, the responsibility for managing and keeping the profiles up to date falls on the researchers themselves. Only 31% of respondents named the research office as taking part in that effort.
The lack of a research portal, or its poor maintenance, makes keeping track of a university's published research a logistical and time-consuming challenge. More broadly, only 34% of research office staff have systematic access to up-to-date information on such publications; yet, 85% of research office members said they had to report just that data to internal management, and 51% to funding partners or government authorities, in the last three years.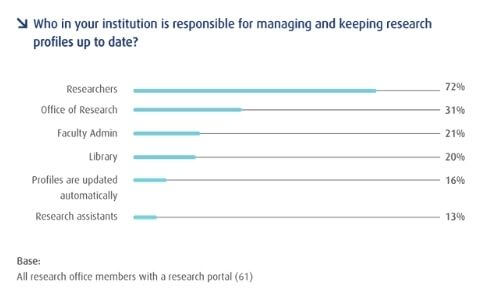 Measuring Research Impact
"Traditional measures like citations are meaningless beyond academics. Many of my partners come from industry or government, and they care about demonstrable outputs of a project beyond publications." — Faculty staff, Australia
Half of all research office members surveyed said that they are often or sometimes required to demonstrate the influence of publications. Citations remain the most popular choice for doing so, with 90% of researchers saying it is how they measure the impact of their research and 63% of research office staff saying it is an important metric.
Thirty-eight percent of senior research staff believe demonstrating the impact of research is a main priority at their institution. However, they also recognized the value of many indicators other than citations, such as media mentions (39%), policy papers and regulations (38%), social media engagement (19%) and views (13%). In fact, fifty percent of respondents consider journal impact as the most important factor to measure.
There are clearly many challenges in assessing some of these indicators and in linking them back to individual publications. Yet, they can lead to long-term changes in evaluating the impact of research on society.
Improving Collaboration and Supporting Open Access
Research office respondents to the survey named several other institutional priorities in the area of academic research. These can be summarized as improving quality and increasing collaboration.
For example, 33% highlighted collaboration within the university and 21% between the university and other organizations. The focus on research quality can be seen in the prioritization of improving the systems surrounding research and supporting open access.
The Role of the Research Office
Research offices can take a central part in helping their institutions meet the priorities we've examined. For this to be effective, expectations and capabilities need to be aligned with organizational structures, technology, and responsibilities.
And that requires more collaboration, an efficient use of resources and better data, especially in our ever-changing circumstances.
For more details, read the full Ex Libris-Alterline study here.
September 10, 2020