Dani Guzman
In this series on the dynamics of research in the changing academic world, we looked at what research offices consider their key priorities, the effects of COVID-19 on researchers, the role of Open Access, and the challenge of measuring research impact with traditional metrics. For our final installment, we'll consider the administrative burden that weighs heavily on academic researchers, and whether research offices and libraries might help reduce it.
The following data is based on a detailed survey of American, British and Australian researchers and research office leaders. The study was commissioned by Ex Libris and carried out by the Alterline research agency.
The vital support role of research offices and libraries
The Ex Libris report indicates that research offices are currently taking a substantial role in helping researchers find and apply for funding, as well as in monitoring the impact of research. For its part, the library is providing growing assistance in depositing research publications with institutional repositories and in ensuring Open Access compliance.
Over 50% of researchers expressed satisfaction with the support they receive from the research office. Over 60% feel the same way about their institution's library. However, it is noteworthy that this is a significant drop compared to 2019, when around 80% of researchers reported being satisfaction with support from both the library and the research office.
Researchers are carrying an administrative burden
Researchers feel their time and resources are increasingly limited. Therefore, the support they get from the library and the research office is obviously very valuable. However, researchers still report devoting a substantial part of their time to administration, rather than actual research.
How much?
More than one in five researchers invest over half their time in administrative tasks alone. Expand that to include those who say such duties take up at least one quarter of their time and the result is just under 60%.
It should be noted that increased pressures due to Covid-19 may have added somewhat to the administrative burden on researchers in 2020. For example, support services faced competing urgent institutional priorities and many researchers encountered novel administrative demands in the unprecedented circumstances created by the pandemic.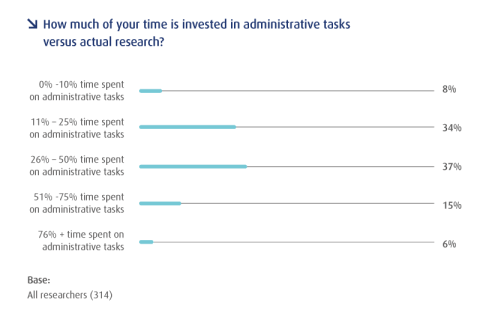 Relieving researchers' burnout
Naturally, most researchers would prefer to spend all their time on research projects, but everyone recognizes this is wishful thinking. On the other hand, the administrative demands on researchers may have to be reduced if universities want to avoid burnout and ensure quality research.
An Australian researcher described their experience in this way: "I spend my days working in isolation at a computer, seen only as someone that must produce 'output'. I don't feel a part of an organization or team working together to achieve an outcome."
Another faculty member from the United States noted, "No one has reached out to see if we could use any support for research."
As noted, the Covid-19 pandemic may be a contributing factor in such frustration, with priorities shifting, resources shrinking and operational issues such as the shift to remote working taking center stage. However, the great majority of researchers feel their institution has provided them with the support needed for the transition to working remotely.
The gap between positive researcher feedback on remote work and the above-noted 20-30% drop in satisfaction among researchers with other areas of support is the opening through which the research office and library can immediately step. For example, 80% of researchers find relevant grants and 86% apply for them on their own. Similar numbers of researchers report having to ensure open access compliance and monitor research impact without any assistance. Preparing data management plans, depositing research in an institutional repository, and even managing article processing charges, among other administrative tasks, are mostly handled independently by researchers.
Those stats highlight many great opportunities for the research office and library to make a real difference by relieving the administrative burden currently borne overwhelmingly by researchers. Research offices should begin by identifying the root causes of researcher dissatisfaction, as precisely targeted efforts demand fewer resources and are far more effective.
We hope that this series of articles and survey data will help libraries and research offices identify opportunities to strengthen their impact on academic research.
For the full report on what researchers and research officers really think, read the full Ex Libris-Alterline study here.